Difficulty
cost
time
1h30m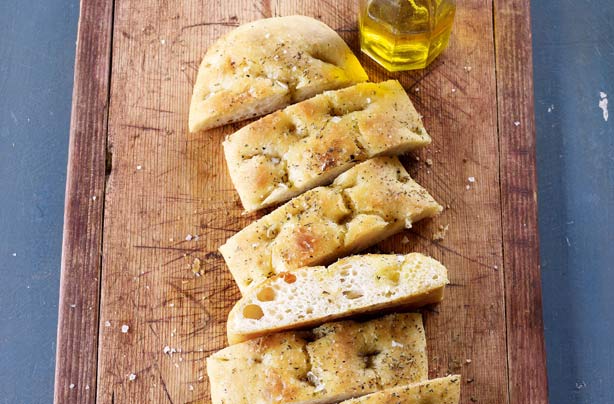 INGREDIENTS FOR 1 KG OF FOCACCIA
Flour: 35.27 oz
Water: 0.95L
Extra virgin olive oil: 3.5 oz
Salt: 0.70
Sugar: 0.35 oz
Yeast: 1 sachet
WHAT YOU'LL NEED IN YOUR KITCKEN
large mixing bowl or electric mixing bowl
film
baking tray
steel or glass bowl
cake pan
Summary
Focaccia is one of the oldest known foods and was very popular during ancient times. Greeks, Phoenician and Roman people prepared it in a variety of ways with different types of flour. In fact, this bread was so highly regarded that the ancient Romans used to offer it to their gods.  Focaccia, from the Latin word Focus, was cooked over a fire. During the Renaissance period, noblemen used Focaccia as an edible dish. At the end of the dinner, they would give this focaccia 'dish' to poor people as food.
Today you can find many different types of focaccia across Italy; some with rosemary,  others with tomatoes, or even olives. Here, you will find a simple and immensely tasty recipe for this universally loved bread. If you want to, you can even add some extra ingredients of your own.
Focaccia, from the Latin word Focus, was cooked over a fire
Follow These 4 Steps to Start
Add the yeast to one cup of cold water. Put the flour into a large mixing bowl or into an electric mixing bowl e.g. Kitchen Aid or Kenwood. As you add the water, yeast and the remaining ingredients to the flour, start kneading the dough until it becomes creamy and smooth in texture. Once done, cover the bowl with cling film and leave it at room temperature for 1 hour.
Take a baking tray and generously oil it with extra virgin olive oil. Place the dough into the tray and level it out by hand to obtain a flat, even dough that is approximately 0.4 inches in thickness. Make several, firm indentations across the surface of dough with your finger.
In another bowl, add 1 Tbsp of water, 1 Tbsp of extra virgin olive oil and a pinch of salt and mix together. Evenly spread the mixture across the surface of the dough.
Preheat the oven to 180°C or 356 F°. Pop the baking tray into the oven and cook for 30 minutes. Once done, remove from the oven, enjoy the aroma, cut and serve.
.